Messages

6,672
Reaction score

6,251
Medals

3
Member Since

July 2007
Well it's arrived and I just put in the first disc to see what the quality was like and it's pretty good. Fine for a show shot on video in the '90s. I only intended to do a quality check but I found myself all wrapped up in this stupidity. I remember watching this very first episode one Saturday morning. I had no idea what it really was. An omnibus edition, what I thought was a never ending TV movie. It wasn't great, there were too many characters to be a film. Every one was good looking. I was hooked, it was just man candy everywhere.
That still holds right now. I remember when I first watched all those years ago I recognised Lesley Ann Down, as Olivia Richards but I wasn't sure where from. Anyway she was a fabulous mess. Like Sue Ellen Ewing in LA with bigger hair and more attractive version of JR as her husband. Cleary that's who Olivia and Gregory Richards are modelled on.
Straight away I loved Meg. When she sped away in that convertible in Kansas after finding her too hot husband to be, fooling around with her bridesmaid. So off she goes to Sunset Beach California to find her cyber BF Ben Evans...
And thus the original main story of the show is born.
I am absolutely over joyed to be watching this show again, in good quality and not on YouTube.
I will be alternating between Sunset Beach and Dark Shadows. Those are my shows this year, I couldn't be happier.
With both shows having like well over 900 episodes I wont be posting episode by episode. Just random ramblings when the feeling takes me. And probably some drooling over all the man candy...
Like this thing of beauty...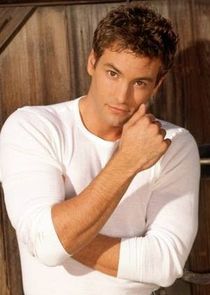 Damn you Terror Island!!! But that's all to come.
Last edited: