Messages

8,339
Reaction score

6,320
Awards

13
Member Since

September 2000
Is there an argument to be made for this?
I just finished a four day marathon viewing of Season 9, and I'm always struck by how fresh it is. But could it be the best season of DYNASTY?
The pilot was holy; subsequently, Season 1 is intelligent and well-structured, but some people find the pacing to be too leisurely. As even Linda Evans phrased it, people "wanted more 'zip'."
Season 2 is sort of the program's defining year because it corrals most of the elements that will make the show work (albeit rarely as well). It vividly presents the series' potential.
Season 3 thru Season 8 suffers from a sense of nervous smallness, the plots don't flow, the dialogue becomes more florid but rarely tells us what we need to know or what we want to hear (eg, conversations about that lava flow headed towards the mansion are usually subverted into "why-don't-you-share-your-pain-with-me?/"My-God-but you're-fantastic!"/"I-hate-you-and-yet-I've-loved-you-all-my-life" repartee), the acting stiffens. That potential so evident in Season 2 just seems frustrated at nearly every turn, counteracted and self-consciously sacrificed on the altar of something else which never seems clear but is unrelenting.
But not only does Season 9 re-open the show with a sense of "air" once again, DYNASTY achieves a flavor of layered richness that only a later season could (but had been fervently denied it previously) once these actors and their characters had been interacting with one another for several years. Yes, Krystle leaves early on, and Alexis spends one-third of her time wandering the Champs-Élysées (usually off-camera) but Krystle's memory looms over the year and Alexis' absences cause her to seem more powerful and mysterious, while the addition of Sable Colby is invaluable, and there's a 22 episode murder mystery that holds together marvelously and re-connects the end of the series with the its origins quite nicely. It all feels a little Biblical.
In a way, the Carlton Hotel lobby is a metaphor -- for three years it seemed drab and lifeless (just as the La Mirage lobby did for four years prior to that). And yet in Season 9, the Carlton's communal areas become glamorous and energetic and teaming with life.
Dare I say it: could Season 9 have actually, possibly, been DYNASTY's best year??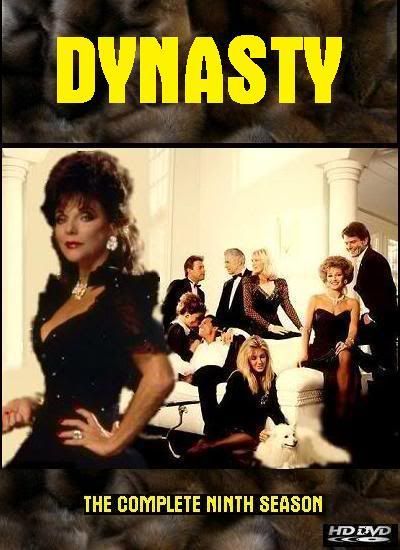 Last edited: