Super Moderator
Staff Member
Top Poster Of Month
Messages

7,148
Reaction score

10,040
Medals

12
Member Since

28th September 2008
This is not a cry for help. It's the actual title of a TV series.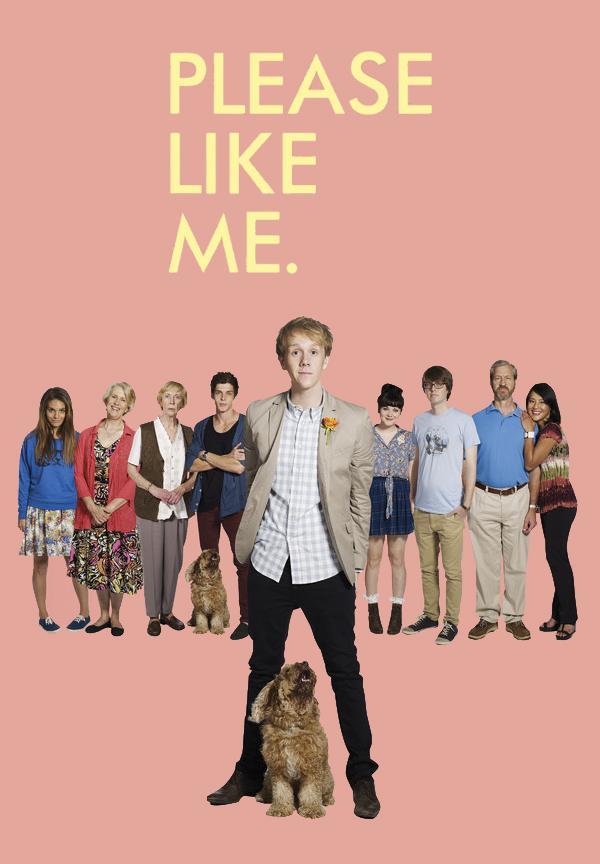 Once again it's not a soap. Like
Bed Of Roses
it's a comedy drama. But it's very Australian. And the not-so-superMum is played by Supermum Pippa Fletcher (nee Lisa Cook, the famous Australian designer discovered by Charlie Bartlett). And
Please Like Me's
Aunty Peg is played by
A Place To Call Home's
Aunt Peg (nee Councillor Alderman Mrs Bullock from
Number 96
). So I'm posting about it here in the safe familiarity of the Aussie soap forum.
I hadn't heard about it until a few days ago when it came up in a Judi Farr related search. Naturally, I was curious about the same actress playing two characters with the same name in two different series that ran almost concurrently (the first episode of PLM aired exactly two months ahead of the first episode of APTCH) on the same network. The complete series is on Prime, so how could I not?
According to the write-up:
Please Like Me is about cavoodles, custard tarts, boyfriends and girlfriends. .Mostly, though, it's about growing up quickly and realising that your parents are not heroes, but big dopes with no idea what's going on - just like you.
Despite the fact that I somehow watched seven-and-a-half spoiler-filled minutes of the second episode ahead of the first, the tone of the series grabbed me instantly. It looks quite stylised, as perhaps best demonstrated by the cinematically creative opening titles for each episode:
(Obviously, I've only watched the first two so far. I'm looking forward to seeing the rest of them in due course. The second episode's titles are worth a look just to hear Pippa Fletcher's colourful outburst at her son at the minute mark).
But the bright, cheery look of the series is perfectly balanced by the naturalism of the writing and performances. It's all very conversational and prosaic, touching on things that we didn't think we even needed to know. Creator/writer/lead actor Josh Thomas gets right into his own defects and life experiences through his character (also named Josh). Such as his less-than-matinee-idol looks, which crop up when his date is (understandably) surprised that he's only twenty:
Josh said:

Yeah. That's because of my face. I look like a fifty year old baby.
What I find refreshing about his new relationship - his first with a man, which began hours after his girlfriend dumped him partly because she realised he was gay - is the degree of acceptance and the complete lack of angst or questioning. It simply happens and everyone - the ex-girlfriend, his (presumably heterosexual) best friend and Josh himself - simply act and talk about it as though it's almost dull. Like he's switched from sugar to sweetener. Which is how it should be. And quite possibly how it
is
for younger people.
It's not without its insecurities, but they're pretty universal ones. When his best friend guesses that he made out with a guy, Josh immediately responds with:
Josh said:

I can never really trust when someone that good looking is into me. D'you know what I mean? I just don't get it. If they're mediocre-looking I can sort of appreciate why their standards are so low. But when they're that pretty I'm just like "what are you hiding?". You know?
Tom said:

Just so I know, we're not talking about your Mum because you're all, like, emotionally stunted, yeah?
Josh said:
Tom said:

And we're just ignoring the fact that Jeffrey's a man?
Josh said:

Yes. When he kissed me, my lip started bleeding because I cut myself shaving. And I bled actual blood into his actual mouth.
I really like best-friend Tom. He has a mare of a girlfriend who treats him like crap and then phones her Mum in front of him to tell her she's been strong enough to have "the conversation". He keeps vowing to dump her but doesn't have the self esteem to do so.
It's only today I've discovered that Josh Thomas is the creator and writer as well as the actor. It's mostly elevated him in my eyes, though it also raised question marks around scenes that were written to have Josh with a good looking young man wearing only the tiniest of y-fronts draped all over him. I'm also trying to overlook the fact that he looks very much like Antony Cotton.
I'm intrigued by his curious accent. I think it's mostly Irish but, because of the delivery, I'm
still
not clear. I keep detecting some Welsh. Perhaps it's some combination of the two or something else entirely. My partner thought he sounded German.
Debra Lawrance has given the series a great boost as Josh's clinically depressed mother. The series began with her in hospital after an attempted suicide (in a nice touch, it was revealed by Josh discovering his zillions of voicemail messages and listening to them in reverse order from newest to oldest, starting with his father saying with relief that his mother was OK and moved to a ward, then going back through some panicked "where the hell are you" ones from his father and sister, and finally to one left by his mother saying she needed his help). There's an absolutely terrific moment in the second episode where she's in a lift going to her psychiatrists appointment and she just begins crying uncontrollably, while trying to hide it from the other people sharing the lift.
Judi Farr is once again proving a scene-stealer as this Aunty Peg. She started as she meant to go on:
Peg said:

Josh, there's something I've been wanting to ask you, and don't be immature about it. How big are your testicles?
Josh said:

What?! What the hell...?!
Peg said:

It's no big deal... Just roughly. How big are they?
Josh said:

Why do you wanna know this?
Peg said:

Why? Why, why, why do you always have to ask why? ...If you were going to compare them to fruit, there'd be grapes? Kiwi fruit? A walnut?
Josh said:
Peg said:

It's just that I have been watching this documentary on Klinefelter's disorder. Sometimes it's known as XXY syndrome...
Josh said:

I'm fairly confident I have the right amount of chromosomes.
Peg said:

Well it's nothing to be ashamed of. It's quite common. And you do have some of the symptoms. You have a pear-shaped body, which isn't really right for a boy, now is it? ...And man boobs. And you're quite effeminate. But, the most obvious symptom is that your testicles do not develop in puberty. So people who have this disorder have tiny, tiny testicles. So that's why I asked you how big yours are. To check.
Josh said:

They're fine. OK? I promise you. Please believe me that they're fine.
Peg said:

How do you know? What are you comparing them to? How many testicles have you seen?
Making the scene for me were the hand gestures she did when talking about the different sized fruits and the "tiny, tiny testicles". It's a nice start for the character who, like the other Aunt Peg is a strict Catholic. I'm looking forward to her input in some more episodes.
The series, too, has really grabbed me. I want to know what happens next, and I think my next few weeks' viewing is sorted!