Dallas Moderator
Staff Member
Messages

8,563
Reaction score

18,279
Awards

19
Location
Member Since

2000
Favourite Movie

Witness, Vertigo, Spellbound
Not long now until the World Cup starts in Quatar (Thats a whole thread in itself! And you know that Mr Beckham will profit from it regardless
)
Who do you think will win?
Personally would like to see England to do well (althought i know my father will tut tut everytime they pass the ball back to the goalkeeper and comment on negative play! )
Not sure who will win this year, might be a S American team once more - Id love to see my fav player Messi with the World cup above his head as his last world cup was disappointing - but the field is open and Brazil as always will be hard to beat
maybe Europe, but cant wait!!
PS Why was Happy Harry MacGuire picked!?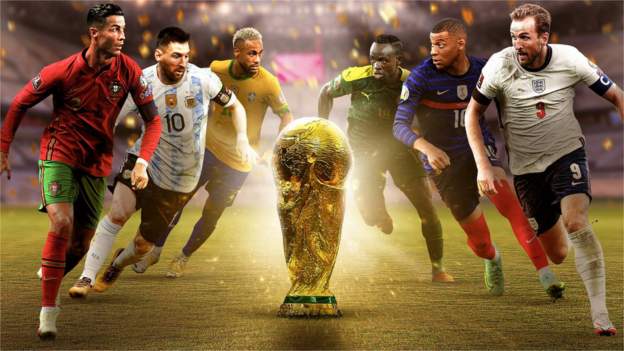 BBC Sport provides a day-by-day guide to who is playing when and where you can watch the match in the 2022 World Cup in Qatar.
www.bbc.co.uk
The countdown is on to the Fifa World Cup Qatar 2022.
The tournament kicks off on 20 November with hosts Qatar facing Ecuador.
England and Wales are in action the following day against Iran and the United States respectively in Group B.
But where can you watch those games? When are the other group fixtures? What day do the knockout rounds start? And when is the final?
BBC Sport provides you with all the fixture and TV information available for the first World Cup to be held outside the northern hemisphere summer.